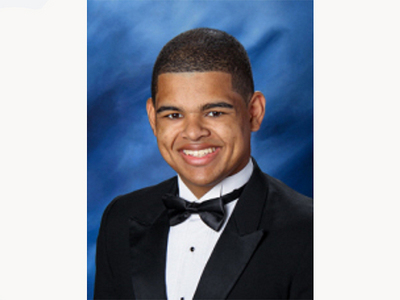 Note: CCSD is celebrating the 2015 graduation season by highlighting "Star Graduates."
Just before Carlos Williams entered Cheyenne High School, he suffered the tragic deaths of his mother and grandparents. He forged ahead, however, and found great success in school. During Carlos' four years at Cheyenne, he earned a 4.57 cumulative GPA and the coveted Gold Shield distinction for completing 17 honors and Advanced Placement courses. Carlos earned an Advanced Honors Diploma and the Millennium Scholarship. For years, Carlos has wanted to be an officer in the U.S. Army. He found friendship and community in Cheyenne's Army JROTC program where he engaged in service to his community. Every year, Carlos volunteered to assist with the Special Olympics. He also served as leader of the Desert Shields Battalion's community service program. Carlos plans to attend Norwich University, the oldest private military school in the nation. Congratulations to Star Graduate Carlos Williams of Cheyenne High School!
Click here to learn about other Star Graduates from throughout CCSD.
---