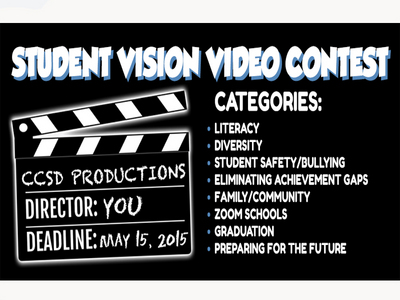 No one knows what is going on in our schools better than those who attend them - our students. In order to help the Clark County School District (CCSD) showcase its key initiatives, Superintendent Pat Skorkowsky is asking students to let the district know what these goals mean to them through the Student Vision video contest.

"Our students are the reason we've set these goals and the reason we work hard to execute them, so it's only fitting to know how our students interpret these goals and let them tell the stories of what these goals mean to them," said Skorkowsky.

The contest, which is open through May 15, is inviting CCSD students to make their own videos that share their own perspectives, ideas, personal achievements and/or school successes around any of the eight different district goals.
The goals include:
Literacy
Eliminating Achievement Gaps
Zoom Schools
Graduation
Student Safety/Bullying
Family/Community
Diversity
Preparing for the Future
Teachers and administrators can help by making students aware of the contest and directing them to the contest information online at ccsd.net/videocontest. The Web site provides further details on each of the goals to help give students a starting point in their videos. Students are invited to participate as individuals, or in teams. While they can consult with counselors or teachers, it is expected that this work be performed completely by students.

Vegas PBS has generously offered to open up their sound studio, two studio stages (bring your own camera), as well as some backdrops and props to students for this contest on two Saturdays, April 25 and May 2. See the Vegas PBS Workshops page for more information and email videocontest@ccsd.net to reserve a time slot. Spaces are limited; first come, first served.

The winning videos will be used by CCSD and shared in several capacities from social media, presentations or other promotional purposes. The videos must be 90 seconds or less and submitted to videocontest@ccsd.net by Friday, May 15. Additional information can be found on the CCSD Web site at ccsd.net/videocontest. Best of luck to our students!
---