CCSD Reads
Bring your books on break! The Clark County School District (CCSD) encourages students to fight the "summer slide" and continue building on their reading skills over the summer months. Students should read throughout the day, all summer long, at least 30 minutes a day. Students can read books, magazines, comic books … any reading counts!
Remember, reading includes much more than just books. Here are 100 ways to make reading more enjoyable.
Summer Challenge
CCSD is proud to partner with the public libraries in Southern Nevada on the Summer Challenge. Your local library offers a variety of online resources, activity ideas, and books of course, to keep all students Pre-K through 12th grade engaged and entertained all summer long. Students can earn points for reading and completing other fun activities.
Students receive prizes for completing each level and are entered to win awesome grand prizes. The CCSD elementary, middle, and high schools with the most student participants will receive a special recognition.
Las Vegas and surrounding areas in Clark County
Boulder City
Henderson
North Las Vegas
#CCSDReads Summer Reading Photo Contest
Share photos of your child reading this summer and you could win a prize!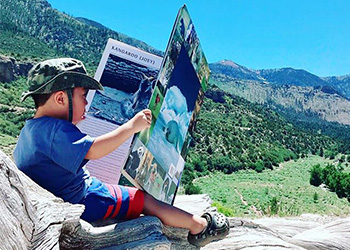 Post photos, including student's first name and CCSD school, on social media (Instagram, Twitter, and Facebook - settings must allow public view) using hashtag #CCSDReads and your photo might be selected to win a prize!
Post a picture of your child or family reading in an interesting place
Post a picture of your child reading something interesting, other than a book
Post a picture of your child reading to a sibling, pet, or other interesting buddy (consider social distancing as appropriate)
Any picture of your child reading could be a winner!
If you don't have social media, photos can also be submitted via email to communications@ccsd.net for consideration.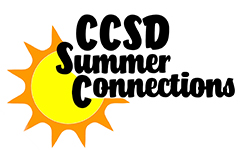 CCSD Summer Connections
CCSD has launched a new website dedicated to summer learning opportunities for students. CCSD Summer Connections will be the one-stop-shop website for parents and students to locate information on credit retrieval services, family guides for summer learning, virtual learning opportunities with educational partners, and more.
Parents and students can locate resources from Khan Academy, MAP Accelerator, Actively Learn, Smarty Ants, and myOn. Credit retrieval and credit acceleration options are available through Apex and Nevada Learning Academy. Along with learning opportunities provided on the website, parents can find information about food service distribution and Chromebook deployment.
Parents and students who need login information to access these resources can contact their school for support.
View CCSD Summer Connections in Spanish
Reading Resources
The resources below will help parents or guardians and students find reading materials that will engage their interest and help spur critical thinking. Please recognize that using the resources below is voluntary. Not every book selected suits every student. Parents or guardians should be engaged in the selection and discussion of reading material to ensure appropriateness of topics and texts for their students.
Nevada READS with myON
The Nevada Department Education and Renaissance are partnering to support reading for all students by providing access to myON digital literacy resources for grades K-12.
myON Reader—Thousands of enhanced digital titles (fiction, nonfiction, graphic novels, and more) at a wide range of reading levels. Flexible reading scaffolds and student-centered literacy tools support close reading and writing skills.
myON News—Daily news articles presented at three levels, written for students and reviewed by a child psychologist for age-appropriateness. Articles include audio, multi-media resources, and recommended books from the digital library for extended learning opportunities.
Access myON Reader and myON News
Log in to clever.ccsd.net with the student's Active Directory or CCSD Google credentials. If these are unknown, use the "K-5 Backup Login (Non-AD)" option and use the Student ID for the username and password.
Click or tap the myON logo within the "Single Sign-On Apps" section.
Students who log in for the first time will complete the Interest Inventory and the Placement Test so students can easily find books and news articles that match their interests and are at their reading level.
Access your school library and online resources including eBooks, online databases, and open educational resources. Under Location, select Nevada. Under School, type in the name of your school. Click Go! To login, students should use their student number as the username and their first name as the password.
Check out these books suggested by Nevada's students.
Recommendations from the Public Libraries
Explore book recommendations for children provided by the Las Vegas-Clark County Library District staff.
And even more recommendations for teens.
More Summer Fun
Watch the Vegas PBS STEAM Camp, scheduled to air on Vegas PBS Channel 10 each Friday beginning in July. Each week, the program will demonstrate an interactive at-home STEAM challenge. Children who submit a video or photo of themselves completing the challenge will be entered into a raffle to receive a PBS KIDS summer learning kit, comprised of a new book, PBS KIDS summer learning booklet/bookmark, and a PBS KIDS drawstring bag.
The Clark County School District Board of Trustees, Superintendent, and staff hope you have a safe and happy summer, with lots of time to read!