Government Relations
The Government Relations team interacts with local, state and federal elected officials and associated offices to ensure the coordination of policies, legislation and funding in a manner that benefits children and education in our community.
The Government Relations team represents the District in matters concerning the state legislature, Congress, the Nevada State Board of Education, the Nevada Department of Education, and local governments. The office helps develop legislative priorities; represents the District at legislative hearings; lobbies during the legislative session; meets with legislators during the interim to assist with the education-related concerns of their constituents; and serves as a District contact on various public policy issues. The office also produces an analysis of education-related legislation between sessions and monitors the District's compliance with legislation during the interim.
Legislative Updates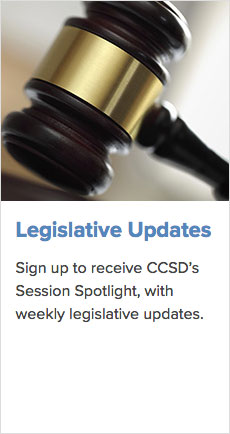 ---
The 2017 Legislative Session Final Report is a culmination of the work performed by the CCSD Government Affairs team on behalf of the District for the benefit of all students and staff. We encourage you to review each section of the report – 2017-2019 Education Budget, Top 10 Topics, CCSD Impact Report, Assembly Bill Summaries, Senate Bill Summaries, and Session Spotlight Legislative Updates – to understand the bills that passed and individual CCSD division/department roles in their implementation.
Links imbedded throughout the document help to navigate the report. Each of the tab titles in the Table of Contents will lead directly to that section when clicked, and bills identified in the Top 10 Topics and District Impact sections link to the full bill information on the Nevada Legislature Web site.