Canvas LMS Information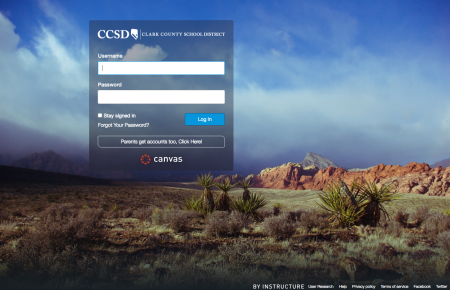 Canvas LMS is your online classroom for CCSD. It's a powerful tool that's available district wide. If you're looking for the Canvas LMS trainings, webinars or PDEs that are available, search Pathlore for "Canvas". Just looking to get more info? Canvas has a great "Getting Started with Canvas for Teachers" page. Additionally, CCSD has a public Canvas LMS course available that's full of information on getting started.
Every school site and department should have a Canvas "Controller" that you can ask for direction to good resources and help you get started on your adventure in blended learning. Canvas LMS also has an InterAct conference, located in Edlink, where you can read current announcements or have discussions with other CCSD Canvas LMS users. You can find the CCSD Canvas LMS at canvas.ccsd.net or click the link below to log in.
Please use Google Chrome or Mozilla Firefox for the best experience when using Canvas LMS.
Note: Please inquire with your admin to find out who the controller is at your site.
Questions and concerns about CCSD's Canvas LMS can be directed to the Online & Blended Learning Department at (702)799-0063.
---
Canvas LMS Mobile Apps
Instructure has produced several Canvas LMS apps available for iOS or Android. The main Canvas LMS app allows the viewing of courses, content, and assignments. The SpeedGrader app is for teachers to easily go through assignments for grading in their courses. Polls gives you the power of formative assessment based on your students in Canvas, and MagicMarker allows you to keep track of the mastery of learning outcomes. Search for "Instructure" to find all of the ones available on your device.
Search the Canvas Guides for information about all of their mobile apps! Use search term, "mobile", to get to links to mobile guides for phone and tablet versions of the apps.