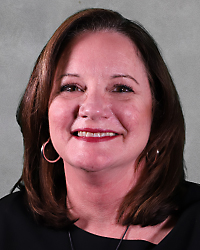 Trustee Board Member
Lisa Guzman
As an educator and education advocate, I have supported public education issues since my father had me walk the strike line in Deer Park, New York. I grew up in Stony Brook, New York, went to high school in Gainesville, Georgia, and attended Arizona State University to get away from cold weather. I met my husband of 30 years in Arizona. We have two amazing boys that are now 26 and 20. Our eldest has a degree in political science and English from ASU. Our youngest is pursuing his degree in Elementary Education with an emphasis on English as a Second Language at Arizona State University. We have Sun Devil Nation in our home.

My teaching career was in Arizona both in urban and rural districts. My undergraduate degree is in Elementary Education with an English as a Second Language emphasis. I have a master's degree in Educational Technology and Business Leadership. I started advocating for educational issues full time in 2007 when I joined the Arizona Education Association team. I trained educators across the United States in online education when I joined the NEA Member Benefits team in 2013. Now, I advocate for Nevada educators every day. I have been a Henderson resident since I joined the Nevada State Education Association's team in 2015. I have enjoyed advocating for educators from around the state of Nevada and for the last two years, I worked with the Education Support Professionals in Clark County.

I have confidence that my experience with educators across the county, my education, and my advocacy skills will bring a different perspective to the board. I am certain this is why my community put their trust in me. I understand the difference between urban and rural schools. As the representative for District A, I want to familiarize myself with all the needs of the students and communities that the Clark County District serves.
| Elementary Schools | Middle Schools | High Schools | Alternative/Special Education Schools |
| --- | --- | --- | --- |