Newsletter
English
Past Newsletters
November (English)
October (English)
September (English)
August (English)
April (English)
March (English)
F-Troop Meeting Schedule
2018 District F, F-TROOP Meeting Schedule
F-Troop Parent & Constituent
November (Agenda)
Contact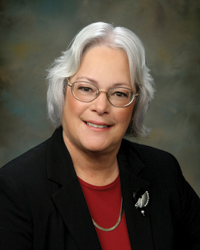 Trustee Board Member
Carolyn Edwards
A resident of Las Vegas since 1992, Carolyn Edwards was first elected to the School Board in 2006 and then again in 2010. She is the representative for District F which includes most of the southwest part of the valley. Edwards earned her B.A. from Earlham College and a Masters in Social Work from Rutgers University.

Since her election to the School Board, Edwards has served as president in 2011 and 2013, as vice president in 2010 and 2009, and as clerk in 2008. She is also a member of the Nevada Interscholastic Activities Association Board of Control; chair of the School Name Committee; liaison to the School Board Student Advisory Committee and immediate past president of the Nevada Association of School Boards (NASB), having served as president in 2012, president-elect in 2011, vice president in 2010, and legislative chair in 2009. She serves on the Executive Committee of NASB. Edwards has also served as a board member for the Southern Nevada Public Television Board, the representative to the Council of Great City Schools, liaison to the Attendance Zone Advisory Commission, chair of the Southern Nevada Regional Planning Commission and member of the Debt Management Commission.

Prior to her move to Nevada, Edwards worked 10 years as a family therapist in a community mental health center in Prince William County, VA. During that time, she also worked closely with the police and fire and rescue departments providing critical incident stress debriefing services.

Since moving to Nevada, Edwards has been active with the local educational system. She worked as a volunteer in her childrens elementary, middle and high schools, remaining active until they graduated. She was PTA president of Gray Elementary School and for seven years she assisted in the Career Center at Bonanza High School, guiding high school students in their post secondary pursuits.

From 1995 to 1999, Edwards served as the chairperson of the District F School Board Trustee Parent Advisory Committee (F-Troop). From 1999 to 2006, she served on the Attendance Zone Advisory Committee (AZAC) for the CCSD, acting as chairperson for three years. As part of her efforts with AZAC, Edwards conducted hundreds of meetings with schools and parent groups to explore future zoning decisions and to obtain feedback from the stakeholders. Finally, Edwards served as a lobbyist on education issues during the 2005 legislative session.

Edwards has also been involved in land use planning and development issues in Clark County. She was appointed by the Board of County Commissioners to serve on numerous committees addressing a variety of topics such as the Spring Valley Master Plan, the Desert Inn Overlay District, and the Cooperative Management Area of the airport.

Trustee Edwards has been recognized by many groups for her contributions to education in the State of Nevada. Her awards include the 2012 NAACP Heartbeat Award, the 2011 Asian Chamber of Commerce Educator of the Year Award, the 2011 NASB Veteran School Board Member of the Year Award, the 2009 NASB Executive Director's Award, and the 2008 NASB Director of the Year Award.

Edwards has been married to her husband, Charles Carter, since 1971. Their two sons attended CCSD schools, graduating from Bonanza High School.
| Elementary Schools | Middle Schools | High Schools | Alternative/Special Education Schools |
| --- | --- | --- | --- |