Community Engagement Unit
The Community Engagement Unit, led by Kirsten Searer, Chief Communications and Community Engagement Officer, is comprised of five departments, primarily tasked with all external communications and community outreach activities.
Mission
The Community Engagement Unit supports academic achievement for all students by:
Promoting district initiatives, goals and achievements to increase positive perception
Helping schools position themselves as the best choice for families in their communities
Advocating for school needs at the local, state and federal level
Connecting schools, parents and the community to collaborate and engage in support of district initiatives and goals
Educating the public on topics and issues that are critical to students and families
Providing accurate and reliable information while dispelling inaccuracies
Advocating for constituents
Training staff on a customer service model to provide exemplary service
Departments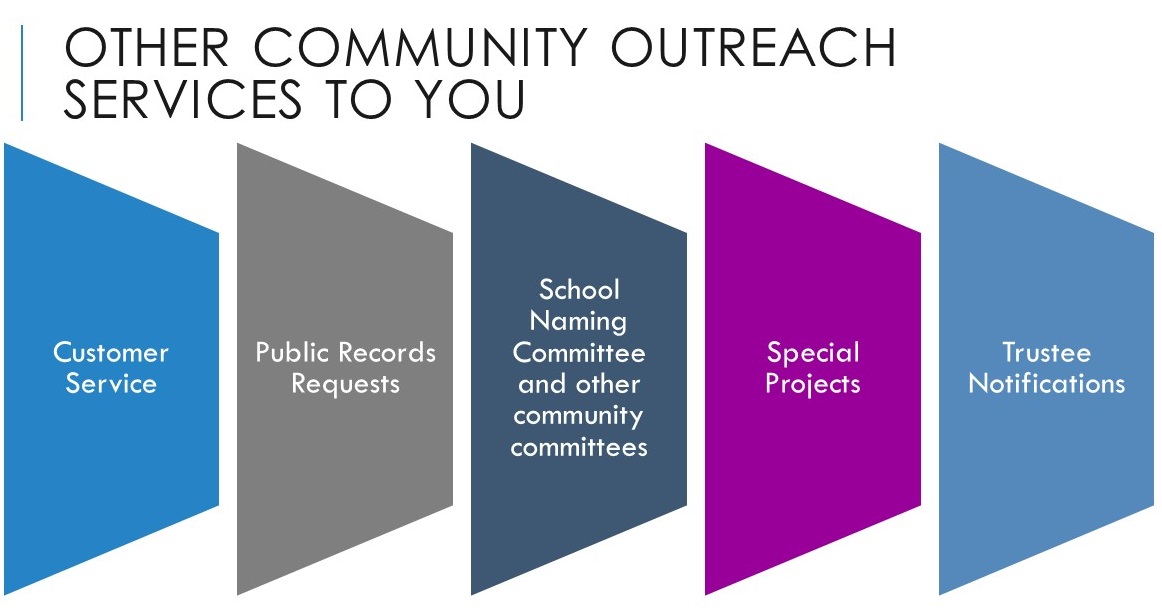 How We Support Our Schools
Customer Service
School Organizational Team Resolution Process
Gold Cards (access to athletic/activity events)
Public Records Requests
School Gardens
Special Projects
Trustee Communication (Need to Knows)
Getting Involved
In the Clark County School District, we believe education is at the forefront of social and economic development. It has the power to stimulate economic growth, reduce poverty and inequality, and promote democracy as well as social cohesion. Whether you are a parent, grandparent, elected official, journalist, or interested taxpayer, the Clark County School District encourages you to share your interest and expertise to help students become productive graduates and citizens of our community.
There are several ways to engage in education in Clark County, including:
Serving on District Committees
Attending Trustee meetings