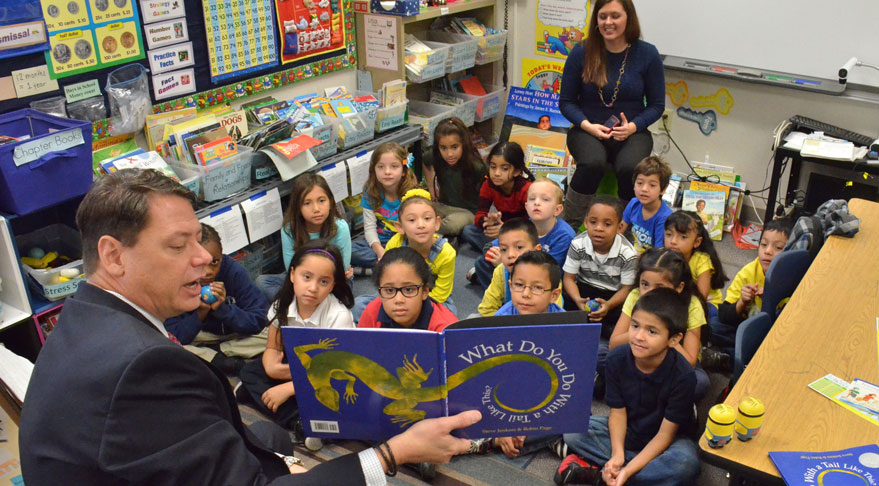 Pat Skorkowsky
Clark County School District Superintendent
Superintendent
Pat Skorkowsky
Hi, I'm Pat Skorkowsky, superintendent of the Clark County School District, and also a member of our community for more than 25 years. I welcome you to explore this page, which contains an overview of the district's reform efforts and lets you know what I'm doing in our schools and in our community.
The "Pledge of Achievement" outlines a strategic vision for the District and sets specific goals we will reach to ensure "every student in every classroom" graduates ready for success in college and career. You can view our strategic vision below. If you want to help, I encourage you to take the pledge.
We have set six goals aligned to the Pledge of Achievement that now serve as our annual District Scorecard that we present to the public. You can help track our progress at District Scorecard.
Every week, I will update my blog, Pat Personally. The blog will tackle difficult, but very important, subjects facing students and families, while also providing a behind-the-scenes look at a variety of district initiatives and discussing how we are responsible and accountable to you -- the taxpaying community.
I hope this page serves as a resource for your family and helps you become an active partner with CCSD. We face many challenges but our community is strong and dedicated to improving education to ensure a brighter future for our students and improve our local economy.
Please do not hesitate to email me at pskorkowsky@interact.ccsd.net. I consider it an honor to be your school district superintendent!
Superintendent's Bio
Pat Skorkowsky has spent the last 27 years as an educator in the Clark County School District. He has served as a teacher, assistant principal, principal, academic manager, deputy superintendent and now as superintendent.
Skorkowsky started his career as a first-grade teacher at C. C. Ronnow Elementary School in 1988, after moving to Las Vegas straight from Oklahoma upon graduating. It was there that he developed the teaching philosophy that today drives the nation's fifth-largest school district: The idea that we can reach
"every student in every classroom, without exceptions, without excuses."
Since he began his tenure as Superintendent in June 2013, Skorkowsky has outlined an ambitious and aggressive agenda to improve academic outcomes for every student in the District called "The Pledge of Achievement," which can be found at PledgeofAchievement.com. He also outlined a District Scorecard, which measures the district's progress on six important goals: increasing third-grade proficiency, increasing the graduation rate, reducing achievement gaps, increasing family engagement, ensuring student safety and happiness, and increasing student participation in career and technical and magnet programs.
Skorkowsky is an active member of the community, serving on the boards of several community organizations, including the Discovery Children's Museum, the United Way of Southern Nevada, and the Jobs for Nevada's Graduates. He was named the UNLV College of Education Alumni of the Year in 2013 and he received the State PTA President's Special Award in 2014.
He grew up in a small town in central Oklahoma, received his bachelor's degree in Elementary Education from Oklahoma State University and a master's degree in Educational Administration from the University of Nevada, Las Vegas. In November, 2013, Skorkowsky was named the UNLV Alumni of the Year for the College of Education.School.
"Every student in every classroom, without exceptions, without excuses."