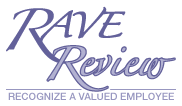 Recognize A Valued Employee
What is a RAVE Review?
A RAVE (Recognize A Valued Employee) Review is an unsolicited acknowledgement of a CCSD employee who has demonstrated a special effort, a job well done, a project of quality workmanship and/or a caring and sensitive attitude. A RAVE review is not just a pat on the back for doing a good job. Rather it is recognition for something exemplary and gives you the opportunity to recognize a CCSD employee who has truly gone above and beyond the call of duty.
Submit a RAVE
Longevity Pins/Certificates
Longevity pins have returned! Employees who have completed 10, 15, 20, 25, and 30 years of service will receive a pin and certificate from their supervisor.
Perfect Attendance Certificates
Perfect Attendance certificates are here! Employees who earned perfect attendance in the 2018-2019 school year will be sent an electronic perfect attendance certificate to their supervisor.